Wings Like No Other with Asian Salad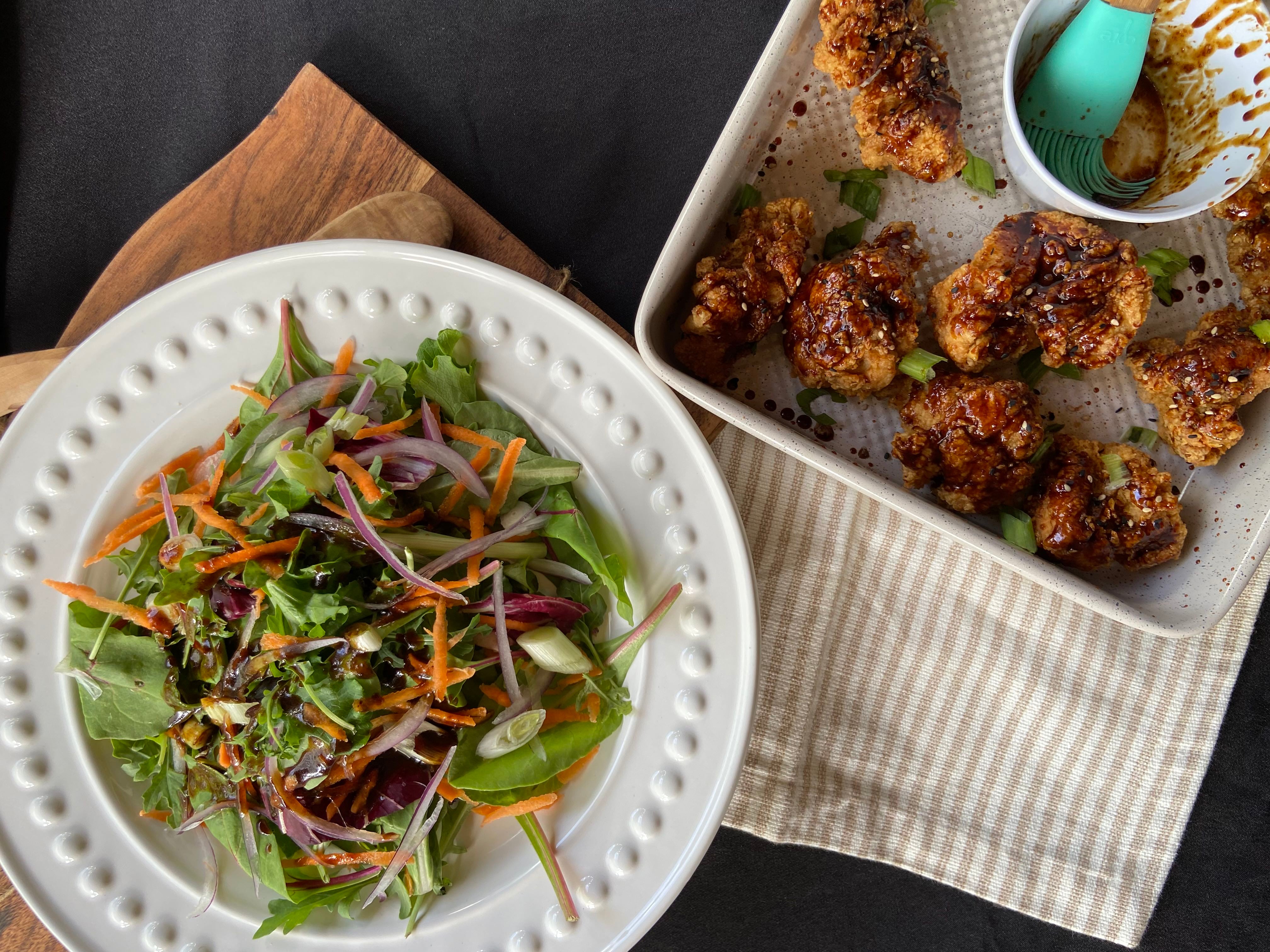 For the chicken:
Making wings can be a hassle, but we are here to make it easy for you so you can create this delicious crispy dish at home. Use it for any occasion, we guarantee it will be a famous frequently requested dish.
1 lb. of chicken, separated into drums and flats

1 teaspoon of salt

1 teaspoon of black pepper

½ tablespoon of garlic powder

1 tablespoon of dry oregano, ground

1 tablespoon of all-purpose flour

2 cups of oil, for frying

2 tablespoons of MADE BY COOKS Sesame & Ginger Sauce 

1/8 cup of scallions, thinly sliced

1 tablespoon of sesame seeds
In your favorite mixing bowl, combine salt, pepper, oregano, garlic powder, and flour. Mix well. Coat the chicken with this mixture. Shake excess off.
Heat oil in a deep pan over medium heat (350 ºF). Deep fry the chicken until it turns
golden brown (3-4 minutes on each side) –careful with hot oil splatters! Fry in 3's to avoid lowering the oil temperature too much. Place on a paper towel to drain excess oil. When the wings are done, transfer them to a mixing bowl and add the Sesame & Ginger Sauce. Toss to glaze the wings. Add the scallions and the sesame seeds and toss to evenly disperse the garnishes. That's it! You are ready to eat these easy wings with the delicious crispy skin we all love.

*If you want to make them in the air fryer, instead of frying in oil, spray the bottom of the tray with spraying oil and cook at 350 ºF for 20 minutes, or until the perfect golden brown. They will be paler and a bit drier than fried, but still crispy and very tasty.
For the Salad:
This is a salad that is so versatile you will pair it with everything. Have you ever heard of a "cleaning out the fridge" recipe? Well, this is one of those. Got carrots? Use them. Got tomatoes left over from yesterday's taco night? Use those too!
First, check your fridge to see what you got, if not, use the following ingredients as a guide to try an amazingly delicious Asian-style salad.
2 fistfuls of lettuce, mesclun, or any green lettuce you have

1/8 cup shredded carrots

1/8 red onion, sliced

1/8 cup of scallions, make sure to use all the parts for extra flavor

2 tablespoons of Sesame & Ginger Sauce by Made by Cooks
Add the lettuce, carrots, red onions, and scallions in one bowl and lightly mix it around. Once done, add the Sesame & Ginger Sauce as your dressing.

PRO TIP: You can mix the Sesame & Ginger sauce with mayonnaise for a creamier consistency.
Feel free to add all the vegetables you like, and pair with your favorite wine.
¡Buen Provecho!